Implementation and evaluation of the UI Strategic Plan for 2022-2027 will be managed by the
Strategy Team (ST)
.
The Strategy Team (ST) will: 
review strategic plan progress at least annually and report to campus;
adjust goals and strategies as needed in consultation with campus content area experts; and
manage available resources to support strategic priorities and to strategically invest in areas of distinction that will contribute to the creation of a "destination university."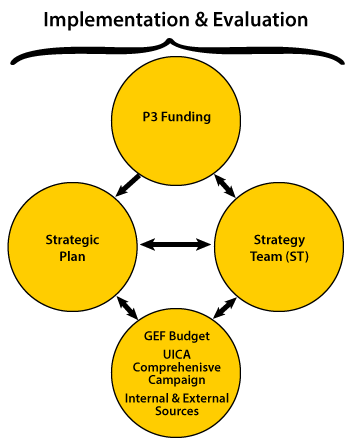 Funding and Allocation of Resources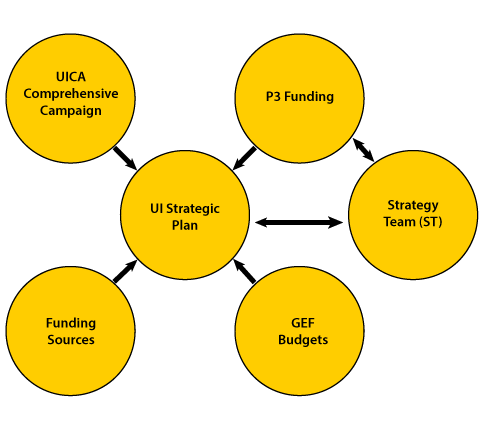 Allocation of resources to support the strategic plan will be critical.  
The UI's strategic plan will be funded by:
the UICA comprehensive campaign, 
internal and external funding sources, 
GEF budgets of colleges and central service units, and
resources from the UI public-private partnership (P3).
The Strategy Team will be the institutional manager of the
P3 Program
in support of strategic priorities.
The ST will: 
solicit campuswide proposals to compete in the P3 Program funding process;
vet and recommend investment opportunities to the P3 Board of Directors* and work with the Board to allocate funds or strategic initiatives; 
review P3 proposal advancement towards project goals and evaluate impact on institutional goals;
report to campus leadership groups regarding funding and project progression as well as communicate to campus at key intervals; and
consult with content area experts as needed.
*P3 Board of Directors: Board of Regents State of Iowa representative; UI faculty member appointed by the Faculty Senate; and the UI senior VP for finance and operations