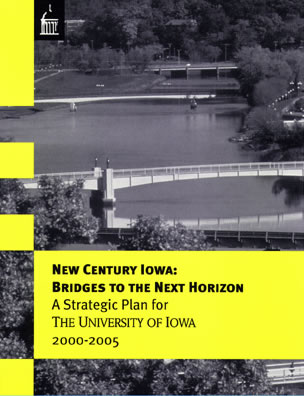 NEW CENTURY IOWA:
BRIDGES TO THE NEXT HORIZON
A Strategic Plan for The University of Iowa 2000-2005
The University of Iowa, spanning the banks of the Iowa River, is a public research institution founded upon a tradition of building bridges. As inheritors and renewers of this tradition, we advance our mission of teaching, research, and service through dedication to the finest scholarship and creativity. From the health sciences to the arts, our aim is to provide a humane and technologically advanced community in which diverse students, faculty, and staff, working and learning together, are able to achieve excellence. Our success derives from the strengths of the relationships we build. As we discover ways to build bridges, we act on our belief that engagement across differences -- whether cultural, disciplinary, or individual -- enhances the quality of our work. To enjoy enduring success, we believe that a university must have core purposes and values that hold firm even as its strategies and practices continually adapt to a changing world. The ability to balance continuity and change requires a consciously practiced discipline of thought and informed action that is linked closely to the ability to develop a vision. This guiding vision will help us make decisions about what to preserve and what to change. As the University community engages in clarifying its vision, refining its ideals, and sharpening its focus, it can indeed become a leader in higher education, both preserving its core values and instigating change, discovery, and innovation.
Aspiration
The University of Iowa aspires to become one of the ten most distinguished public research universities in the nation.
Mission
The University of Iowa seeks to advance scholarly and creative endeavor through leading-edge research and artistic production; to use this research and creativity to enhance undergraduate, graduate, and professional education, health care, and other services provided to the people of Iowa, the nation, and the world; and to conduct these activities in a culturally diverse, humane, technologically advanced, and increasingly global environment.
Core Values
Founded by Iowa's first legislature in 1847, and entrusted with a threefold mission of teaching, research and public service, The University of Iowa is rooted in a culture that values education. In planning, setting priorities, and making decisions, the University is guided by five interdependent commitments.
Learning
The University of Iowa is dedicated to discovering, disseminating, and preserving knowledge and to the development of an educated citizenry. Through teaching, research, scholarship, creative endeavor, clinical practice, and public outreach, the University develops ideas, enlarges understanding, and extends its resources to society. Recognizing the need for constant inquiry and continuous reinterpretation of knowledge, the University vigilantly protects free expression of thought, respects difference and diversity, and fosters opportunities for all members of the community to generate and discuss ideas and contribute to the vitality of the educational environment.
Community
The University of Iowa recognizes that its students, faculty, staff, and alumni are the source of its strength: Collectively, they determine the institution's character, quality, and effectiveness. On a safe and well-maintained campus, the University offers a supportive and humane environment in which people from a wide variety of backgrounds and traditions may encounter each other in a spirit of cooperation, openness, and mutual respect, to form a richly diverse and intellectually stimulating community.
Responsibility
The University of Iowa is obligated to exercise responsible stewardship over the intellectual and material resources entrusted to it. As a public institution, the University aims for accessibility, affordability, and quality, so that a broad array of qualified students from Iowa and elsewhere may obtain an excellent education at reasonable cost. The University recognizes the responsibility of its faculty to determine what students should learn and to shape the body of knowledge that will be passed on to future generations. It is also the University's obligation to engage all members of its community in collective reflection on their responsibilities not only to their disciplines and professions but also to the institution and to society.
Integrity
In fulfilling all areas of the University's mission, members of the University of Iowa community hold themselves to the highest criteria of honesty, fairness, and professional and scholarly ethics.
Quality
As a center of learning, The University of Iowa measures itself by exacting standards, honors high aspiration and achievement, and expects all persons associated with the University to strive for excellence.
Culture
The culture of The University of Iowa has been formed through historic adherence to core values. The culture is characterized by decentralized, collaborative decision making within a community that fosters open and consultative communication.
The New Plan for the Next Century
As we contemplate where we should focus our energies and resources at the outset of a new century, it is important to recognize the significant progress we have made in the past ten years, guided by Achieving Distinction and Achieving Distinction 2000. We must now institutionalize an ongoing commitment to and pursuit of our fundamental University principles, while sharpening our focus on five strategic goals that will enhance the distinctiveness of the University and advance its standing among public research universities of comparable stature. Our success in achieving these goals by 2005 will depend on our ingenuity in devising innovative strategies and on our determination to put them into practice. We will use sets of indicators and numerical targets to gauge our progress in adhering to our fundamental principles and in achieving our strategic goals.
FUNDAMENTAL PRINCIPLES
Maintain and enhance a culturally diverse and humane University community.
Maintain and enhance strong ties between the University and external constituencies.
Be responsible stewards of physical facilities, equipment and information technologies.
Promote responsive and fiscally sound ancillary enterprises.
Enhance patient care and ensure the fiscal integrity of the clinical enterprises.
STRATEGIC GOALS
To create an undergraduate experience that enables students to fulfill their intellectual, social and career objectives.

Provide cognitive and experiential learning opportunities for students to become aware of their place and responsibilities in the world, to learn respect for and embrace differences among people, and to become aware of the global interdependence of peoples of different societies and cultures and their environment.
Nourish the undergraduate experience through support of a curriculum that encourages interactive learning and technological innovation and that prepares students for life after graduation.
Focus on developing one or two core components of the undergraduate experience in areas in which the University can offer special strengths.
Enhance undergraduate teaching and learning through optimizing our unique resources as an international research university.

To achieve premier graduate and professional programs in a significant number of areas.

Identify new, more effective ways to attract, retain, and develop a first-rate, diverse faculty and student body.
Revise graduate and professional education programs, according to recommendations of recent national reports relating to enhancing communication and technical skills, providing opportunities for a broader preparation for an array of career options, and enhancing career planning and placement service throughout the graduate career.
Enhance career preparation programs that will encourage students to plan for professional life after graduation and foster their development of an ongoing relationship with the University.
Create incentives that encourage faculty and staff to seek external funding, participate on review panels, or engage in other visible activities that enhance the quality and reputation of individual graduate and professional programs.

To foster distinguished research, scholarship, and artistic creation.

Create an intellectual environment that supports the exchange and critical analysis of ideas.
Cultivate a distinguished and diverse research community of scholars that actively involves undergraduates as well as graduate students.
Accelerate enhancements to infrastructures supporting research, scholarship, and creative activities in selected areas of strength and promote opportunities for increasing external funding in all areas.
Promote the role of the University in technology transfer and economic development.

To facilitate interdisciplinary interaction in teaching, research, and service.

Lower barriers and increase rewards for interdisciplinary activities such as teaching, curriculum reform and collaborative research including the pursuit of funding opportunities.
Provide interdisciplinary opportunities for every student.
Establish international prominence by nurturing interdisciplinary initiatives that build on areas of acknowledged strength.
Focus on support of interdisciplinary work within existing administrative structures by providing a "program incubator" able to provide shared services and administrative support to incipient interdisciplinary projects.

To develop a highly productive organization that supports the mission and values of the University.

Review, modify, and modernize administrative processes and information technologies with the goal of removing unnecessary barriers to progress.
Develop and mandate a comprehensive system of individual performance assessment, development, and goal setting for all faculty and staff.
Advance accountability through more sophisticated measurement and evaluation of needs and outcomes.
Create an environment that supports and encourages training and professional development.
Planning Assumptions for The University of Iowa 2000-2005
Effective strategic planning for The University of Iowa must proceed from a candid and realistic assessment of our current campus environment and critical resources, including a cool-eyed overview of our own perceptions of our strengths and challenges that we face, and a realistic appraisal of resources available to accomplish new initiatives and to continue stable, ongoing programs.
A. Campus Environment
Widely shared views of University strengths
Excellent national and international academic reputation in teaching and research
Several graduate programs ranked best in the nation and a significant number of graduate and professional programs ranked in the top 10-25% nationally
A history of attracting excellent faculty who achieve national disciplinary recognition
Dedicated and talented General Services and P&S; staff coupled with professionalism among peers
Long-standing innovation in academic and creative offerings
Rigorous academic requirements (including foreign language studies)
Ongoing efforts to improve the campus climate for all university citizens
Strong and effective shared governance
Accelerating research productivity and funding
Mature technology transfer and economic development opportunities
Successful private support through The University of Iowa Foundation
Increasing diversity among the University and surrounding community populations
Challenges facing the University 
Managing change that accompanies the implementation of the University's mission and five year goals
Continually reevaluating administrative policy and procedures in periods of change
Responding to a rapid growth of external regulations
Achieving a resource level compatible with aspirations
Advancing fund-raising efforts across all University units
Integrating human resource development principles at all levels within the University
Linking horizontal and vertical communications throughout the University
Retaining the most talented faculty and staff
Recruiting and retaining a diverse faculty, staff, and student body
Maintaining a competitive telecommunications infrastructure
Maintaining modern teaching and research facilities
B. Critical Resources
Budget

Of the many and diverse sources of funding for the University, none is more important than the innovative use of existing funds.

We have been challenged by the Board of Regents to expect that internal reallocations will be annual and ongoing, so that innovations should be funded partially from our own resources. These internal reallocations will be set at a minimum of 2% with an average anticipated to be 3.5%.

The state operating funding has been steady and relatively predictable. Most important, because it is the largest segment of our General Fund revenue, is full funding of the state salary policy. When salary funding is combined with modest increments in the operating budget we anticipate stable annual increases at a level consistent with the University's mission and goals, that incorporate inflation adjustments and quality increments with occasional small supplements for special projects.

The state also funds capital projects. We anticipate periodic annual increments for capital projects with consideration of special needs.

Tuition is set annually by the Board of Regents. Tuition of the University of Iowa is far below any of our peers in the Big 10 and beyond. Recently the Regents adopted a new tuition policy that reflects increases in the Higher Education Price Index plus a supplement for reaching excellence goals. The costs of some teaching programs of the University far exceed tuition revenue. In some of these instances, differential fees have been introduced. This approach may be explored further.

Research funding, particularly that generated from external sources, is an important component of the University budget. While the amounts and sources of funding vary widely according to discipline, we anticipate that overall growth of external grants and contracts will average 10-12% per year.

Clinical Enterprise revenues have fueled the growth and excellence of our academic medical center. With the rapidly changing health care environment, we will continue to observe erosion in the traditional payment sources and increasing governmental controls in health care. Through skillful management, cost containment, and effective patient referral networks, we anticipate a challenging, but financially stable performance.

We expect that the many ancillary enterprises including bond-issuing enterprises (e.g. residence halls, athletics, telecommunications) will remain self-supporting and financially stable through seeking innovative revenue opportunities and vigilantly controlling costs.

Private funding through the operations of The University of Iowa Foundation is well established and organized. Now, engaged in planning for a five to six year comprehensive campaign, we anticipate sustained growth.

Student Body

The University of Iowa has reached a student population of over 28,000 students. The diversity represented within this population is growing, reflecting demographic changes in the state and nation. We anticipate that this population will grow close to 30,000 within the next 5 years. Undergraduate numbers are expected to increase while graduate and professional student numbers will decrease slightly. The resident/nonresident numbers should remain relatively constant, but a significant amount of the growth in student population will occur at off-campus rather than on-campus locations. Enrollment management will become increasingly important. Expansions and contractions of total number of faculty and staff positions will be driven principally by enrollments and sponsored research funding.

Space

The University is experiencing one of the most active capital construction periods in its history. At various stages of completion are the engineering and biology complexes, the medical education and biomedical research facility, and the University Services building. In the planning stages are new buildings for the School of Art and Art History and Journalism and Mass Communications. Ambitious building renewals and residence hall renovations are ongoing. In all University buildings, fire, environmental safety, and accessibility deficiencies will continue to be corrected. During the next five years, displacements will create opportunities for space reassignment.

Classroom spaces, particularly those that are assigned University-wide, will remain constant until we complete the journalism building project. However, we will be continually upgrading technology in central classrooms and expanding off-campus distance learning classroom facilities.

Research space will expand as a result of current construction. To assist active investigators, deans will allocate newly available space and actively reallocate existing space.

Residence hall spaces will be continually modernized and expansion opportunities will be studied so as to advance the quality and quantity of venues for student living and recreation.

Technology

The new fiber optic backbone will be completed and intrabuilding connections will be activated. Actions will be taken to create high-speed connectivity to all residence halls with the central university networks. Regular schedules for replacement of hardware will be implemented and the issue of computer requirements for all students will be discussed. Internet II connectivity will be completed.