The Iowa Promise, the University's strategic plan for 2005-2010, provided a framework to advance excellence across the university. As we look to the next planning period, we renew The Iowa Promise and reaffirm our commitment to excellence.
The four "pillars" of the strategic plan (the four complementary, mutually supporting areas in which we are investing for accelerated advancement) are highlighted in the image below.  Illustrated at the bottom of the image are three "foundational commitments" (areas that the university is committed to strengthen because of their broad impact across all aspects of our mission).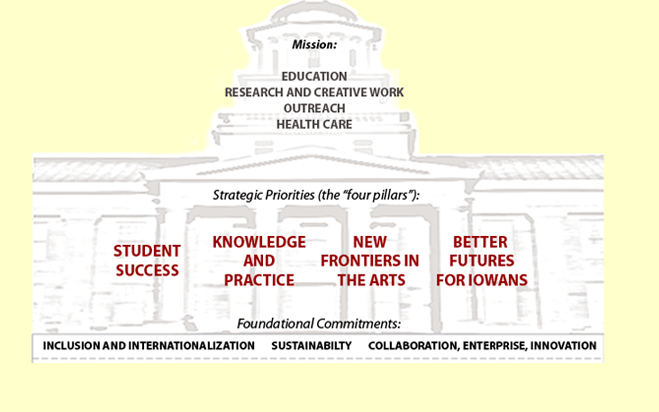 Strategic Priorities

Foundational Commitments
We have titled our plan The Iowa Promise to remind ourselves, and all future readers, of the twin pillars on which the plan is built: we recognize our potential for greatness—our promise—and intend to realize it; at the same time, we recognize that we cannot achieve greatness except by fulfilling our pledge—our promise—to those we serve.
The University of Iowa, spanning the banks of the Iowa River, is a public research institution founded upon a tradition of building bridges. As inheritors and renewers of this tradition, we advance our mission of teaching, research, and service through dedication to the finest scholarship and creativity. From the health sciences to the arts, our aim is to provide a humane and technologically advanced community in which diverse students, faculty, and staff, working and learning together, are able to achieve excellence. Our success derives from the strengths of the relationships we build.