Strategic Plan 2010-2016: Student Success
Undergraduate student success
The increased success of our undergraduates is an educational imperative. There are three dimensions to this priority: Quality, Access, and Affordability.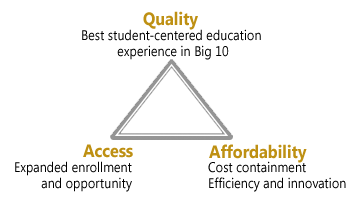 Higher quality will be founded on student-centered educational experiences that raise academic expectations and better engage students with each other, with the faculty, and with their studies, resulting in increased retention and timely graduation.
We will expand access by increasing enrollment over the next five years, taking into account the impact of state demographics and globalization. Expanded access will increase the diversity and internationalization of the University and will help us serve the needs of the state.
We will preserve affordability by containing costs and by the most efficient and innovative use of existing resources.
Graduate and professional student success
We will continue to recruit the very best graduate and professional students from Iowa and beyond whose achievements and diversity will enrich the intellectual excellence of our programs. The total educational experience at the university will promote their academic and professional success.  University funding for graduate programs will be linked to program quality and to student success (including improved and timely degree completion).
Key Initiatives
Key initiatives in this area include: